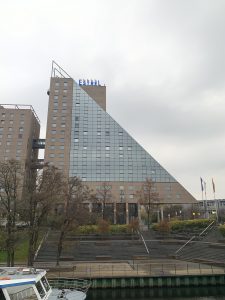 The last two days I was at the Predictive Analytics World Business Conference in Berlin. The event happened inside the Estrel Hotel, a nice and good managed location. In the talks of day one, little was in for me. The deep dive tracks were too deep for me. The use case tracks too superficial. At least it looks like presenting companies are using AI/ML in production. This is in contrast to the Industrial Data Science Days in Dortmund earlier this year, where Companies are using AI/ML in scientific PoCs, far from production.
At day two, the talks were much more interesting. My personal highlight was the talk (with the very long title) "Data Science Development Lifecycle – Everyone Talks About It, Nobody Really Knows How to Do It and Everyone Thinks Everyone Else Is Doing It" by Christian Lindenlaub und René Traue. They summarized their learnings from using Scrum and other methods in Machine Learning projects. They showed how to combine different agile methodologies to run successful machine learning + production software projects. Very inspiring for our own projects too.
The following talk "How to Integrate Machine Learning into Serverless Workflows" delivered also some helpful insights for some of Tarent's current projects.
In the end, a good conference with some points I took home. See you next year? I don't know yet. We will see.
Leave a Comment