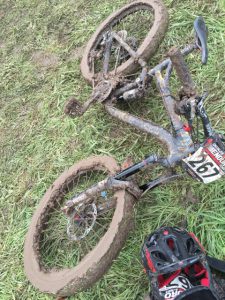 Maybe you are a regular reader of my blog. By regular I mean at least once a year or so. ;-) If so, you may have noticed the last half of the year this blog was more or less abandoned. But this was not because nothing happened. It happened so much that I didn't find the time to write. A common thing I'm sure you know about. But was going on? 
I took part in two Enduro Mountain Bike races. It was such a great experience. I got much impressions, learned to handle my bike in deep mud. Okay, I don't got it, I crashed several times. I got a glimpse of what it means to be constant during a season. Daily training eats up your time, that's for sure. Keeping up the motivation after three months was too hard for me. Results? I don't want to talk about ;-), but I had great fun at the races and that's what counts for me.
I have married! As usual, I keep the private things private on this blog. I decided to take over my wife's surname. I updated this site domain, so please update your bookmarks, RSS readers, etc. to patricksteinert.de for best reading experience.
There were also many things going on in my other life. We ramped up teams for Deutsche Telekom Cloud of Things in April. We grew from 10 to 40 people in the service development, from one to four teams. It was a great learning experience in two directions: organizational and technical. I would like to write more about it later. It took a huge work effort. We build interesting features for the Internet of Things and dig into many customer solutions.
Roughly that's what happened. Stay tuned for further updates :-)